Sep 9, '12
Miyako sushi – 3 Michelin quality minus Michelin stars
Calling a restaurant  "the best in the world" or awarding it with one, two or three stars is a very Western notion. If you ask any well-travelled foodie ( including me ) what is the best sushi shop in Tokyo, she would mention Sushi Saito, Sukiyabashi Jiro or other sushiyas which have 2 or 3 Michelin stars. If you ask that a Tokyoite, she would probably laugh or look puzzled.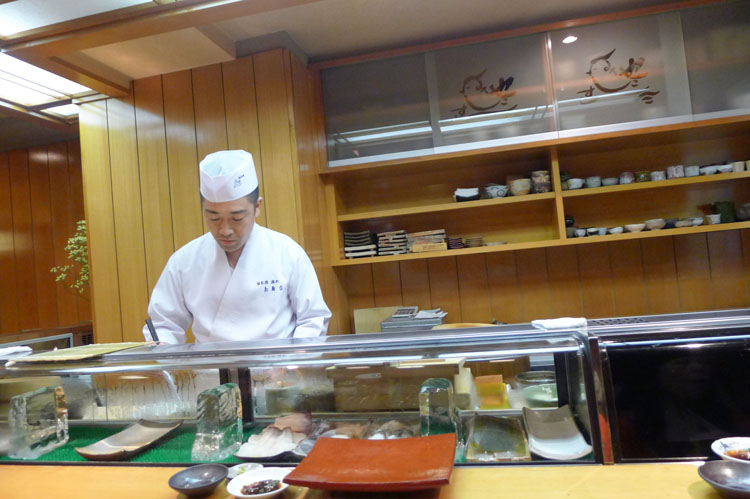 I would have never heard of Sushi Miyako in Tokyo if not an email from one reader living in Japan. He sent me a tabelog link saying "that like many of the excellent restaurants in Japan, this place has no Michelin stars. "  I booked the restaurant immediately I arrived in Tokyo this August ( or rather asked the Peninsula hotel, my favourite in Tokyo, concierge to book it for me ) and, after once again getting lost with my taxi in narrow Tokyo streets, there I was in front of the sliding doors of Miyako sushi.
The little place was full, quite loud and less "temple-like" or fussy than other top sushi shops I've been in Tokyo. Like, for example, the fish destined for that evening's sushi was not in a wooden box, but under a plastic cover in front of you, just like you would see at more casual sushi shops. Or, the chef would disappear in the kitchen for a few minutes to finish preparing his rice… The sushi though was as perfect and irreproachable as at 3 Michelin stars restaurants. The sushi master (quite young, considering that most of the sushi masters in Japan are over 50) is a perfectionist who I was told by my dinner neighbour sleeps only 3 hours a night. I especially liked his rice – room temperature, just slightly sour, each grain perfectly defined.
The whole omakase, including sake and tea, cost me 14 000 Yen, quite reasonable for Tokyo standards, considering that 3 Michelin starred sushi omakases can cost up to 20 000 – 35 000 Yen…  Sushi Saito is still my favourite sushi shop in Tokyo, but after visiting Miyako sushi, I have a feeling that Michelin guide in Japan is sometimes irrelevant. 3 Michelin stars is really not what separates these two restaurants…
The omakase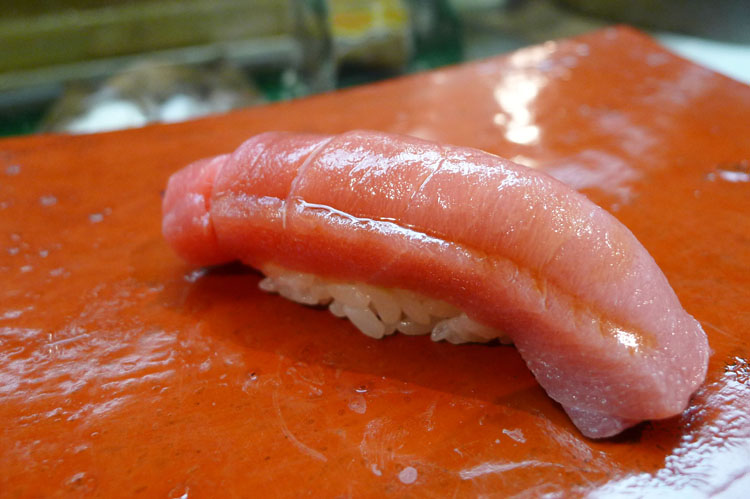 P.S. Thanks for the address, Robert!