Sep 12, '07
Manresa – the temple of New American gastronomy
As expected, the dinner in Manresa (Los Gatos) was sensational. Everything was flawless – how can it not be? Manresa is on the top of the list of OAD's "50 Most Recommended Restaurants"  and the publicity it has been receiving is more than positive (Chuckeats posts ).
A dinner in Manresa has been on my wish list since the first day I heard about this San Francisco Bay Area culinary miracle. I was not only curious to dine in the place everybody has been speaking so much about but also I was very keen to see how Manresa compares with other top restaurants in Paris and France in general. And, I must say, David Kinch, the chef of Manresa, is on the same level as other big chefs of his generation. Not only because he is creative and innovative, but also because he has knowledge of delicious cooking. (Sometimes the food can be very creative, but not "eatable")
When you dine in Manresa, you feel like you are in the West Coast's L'Arpège. The cooking of David Kinch is highly influenced by French cuisine and especially by Alain Passard who once was even the guest chef in Manresa. One of the amuse-bouche, "Arpege farm egg", is "borrowed" from Passard's menu, and, like L'Arpège, Manresa has its own farm where all the vegetables are grown. I don't know what is the story of the friendship between these two chefs, but for me, it is not really the question of influencing or copying, but the philosophy of organic cooking and growing your own fruit and vegetables. If we already have molecular gastronomy, why not "organic gastronomy" also?
I was so enthusiastic about having dinner in Manresa, that we took the special menu. They said it was 11 courses, but I counted 5 amuse bouches, 9 main courses and 4 desserts. Ultimately, as all the dishes contained so many fruit and vegetables, everything was very light.
Even if I didn't take pictures of all the plates and some pictures are two dark, below are all the courses of "The Late Summer Garden" menu.
Petits fours "red pepper-black olive". The red pepper pate de fruit was very sweet-  a sweet beginning for the culinary journey.
Summer croquettes. Didn't have time to take their picture as you had to take them from the plate offered by the waiter and eat it in one bite.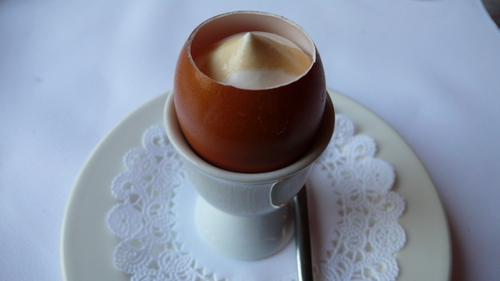 Seaweed and citrus ice, corn and tomato version 4.2. The caramelized (?) seaweed was strange… My friend liked it though- so I guess it was a question of taste
Abalone and slow egg, sucrine lettuce and bread crusts.Interesting combination, but quite limited and a little too straightforward dish for the chef of this level.  (It was getting dark – the quality of the rest of the pictures is not very good…)
Roasted monkfish, garden green veloute. Forgot to take the picture – it was very good.
Red fruit salad with elderflower gelee, raspberry sorbet. (I don't know the name of Manresa's chef pâtissier but he is genius. I haven't eaten such excellent desserts since Michel Troisgros. Too bad the pictures turned so dark… By the way, I find the work of David Kinch similar to Troisgros school also)
Petit fours "strawberry -chocolate". The dinner was closed with similar amuse bouches as in the very first plate, just the red pepper pate de fruit was replaced by strawberry pate de fruit.